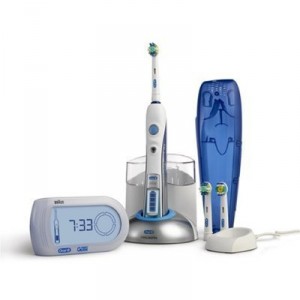 Usually when you look at electric toothbrushes, you might only see a bunch of automatic devices that can be easily replaced with the manual kind of brush. As of late, these devices are more specialty tools for those that take their oral hygiene seriously. However, there are so many different tools on the market that it makes it hard to pick one that will really work for you. The key here is finding the tool that will really help you out, and is designed for what you need. If you have sensitive gums, then you have to have a massage setting, and if you need to whiten your teeth you'll need a polishing feature. So, how does the Braun 9900 stack up against the rest?
The Package
Like most new electronic toothbrushes, this brush comes with a variety of features that promotes healthy dental hygiene. First off, you might notice that when you buy the professional package, you get a little device with a screen that connects wirelessly, but directly to your toothbrush. Basically, it times how long you keep the brush on each side of your teeth. It also acts as an indicator for pressure, and goes off with a red light whenever you apply way too much of it. This little feature is nice, but at the same time, it really implies that this is a professional device. It can help you protect your gums from damage caused by the brush, but at the same time, it seems a little unnecessary. It also comes with three different brush-heads. The flossing head has soft bristles, which can get in between the gaps in your teeth, the second is the ProWhite brush which polishes and cleans your teeth very accurately. The third head acts more as a default head, but you can purchase more heads if you need a more accurate clean. It also comes with a full case and a charger, but that's nothing special since all electric toothbrushes come with those by default.
How it Performs
Boasting around 40,000 pulsations a minute, this brush runs at a massive speed. This is a cut above most other devices of this ilk, and it's also a very efficient means to clean your teeth. The interesting features to this device are the different settings, which add on to the effects of the different heads. The 'clean' feature is basically the default setting and does its job admirably. 'Massage' will help you clean up your gums without putting too much pressure or power on your mouth. Senstive and Polish do exactly what they are named for. Each head can attach and detach with relative ease, but at the same time, it's also locks in very firmly. The brush also comes with a battery indicator, allowing you to see just when you should charge for your morning rush.
How it Feels
Brushing with the tool is comfortable to say the least, and the extra settings combined with the brush-heads allow you to make settings suited to your needs. However, the flossing head, much like other floss heads, doesn't exactly do its job well. Holding it your hand feels great, and a lot of thought must have been placed into the grip.
The Verdict
Overall, this is a very professional device, which can probably be found in a lot of dental offices. The multiple settings allow you to really get that accurate clean, and the brush heads only enhance that effect. However, the professional package is pricey to say the least, usually coming in at $250 for the basic package. Just remember; this brush is almost fully customizable, and that lifts it up and above the other devices on the market.