There are a lot of benefits in taking care of your teeth, and most of them are about your health. You see, while you can settle with brushing your teeth twice a day, you might still be lacking something. No matter how simple brushing may seem, doctors do not fool around when they mention the bacteria in between your teeth. There are a lot of nooks and crannies in there, and most people don't even bother flossing nowadays. So, how can you get your teeth cleaned out through and through? Well, the manual brush is always a good solution when coupled with floss, but for those with special problems, you can opt to use the electric alternative. So how does the Philips DiamondClean stack up in a market saturated with specialty brushes?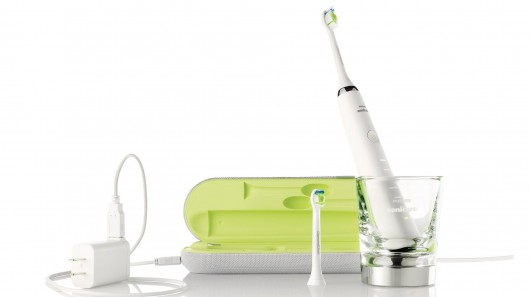 The Package
The Phillips Sonicare brush is unlike other electric toothbrushes in that it has a very different kind of package. First off, the case is intended for those who are always on the move and can't live without their special electric brush. It is very mobile, weighing almost nothing and boasting of a very small size that accommodates the whole device. It also acts as the 1st charger of the device; it has a USB slot and the body of the brush fits nicely into it's own port. However, the device does not use the mini USB port and instead opts for its larger cousin. The option of plugging into your laptop and charging is pretty awesome though. The second thing you might notice is that it comes with it's own water glass which has a wire trailing from the base. This is the second charger, intended for home. The unique inductive puck at the bottom of the glass is what powers and charges your toothbrush. The whole package also comes with 2 generic brush-heads, but there might be more options online. At the same time, the generic brush-heads also boasts of the diamond bristles, which Phillips is famous for. These little features really come a long way in terms of how well the package performs.
How it Performs
Electronic toothbrushes often try to show off high speeds or oscillations to boast of how powerful their devices are. This device clocks in at around 31,000 brush strokes, which is a very respectable number for an electric toothbrush, but there's a reason why it doesn't grow past that. You see, this is a very precise tool in dental healthcare, and that becomes more evident with the settings. Each has a designated amount of time, and will only perform during that stretch. The 'Clean' option clocks in at around 2 minutes, which is the suggested amount of time for brushing. Gum care lasts the longest, running at around 3 minutes worth of cleaning. Using the 'White' option tacks on an extra 30 seconds, while as 'Polish' runs for only 1 minute. Sensitive simply slows down the brush so that you don't harm your gums and teeth. The real problem with these modes is that you can only shift between each with the power button. More than often, you'll find yourself turning the thing off by accident while switching between each option. This problem could have been easily avoided, but you'll have to live with it if you want the brush.
How it Feels
For those who are new to electric brushes, the sturdy 31,000 brush-per-minute speed it runs at might jarring. Over time, it gets more comfortable to guide your it throughout you mouth, and the 30 second time helps you keep track of when to switch sides.
The Verdict
This is a great tool for those that travel a lot and have a lot of issues with their teeth. For some, the steep $219 price tag might be nothing, but for those that are buying on a budget, looking for a cheaper deal will be nearly impossible. This does not stop the Phillips DiamondClean from being one of the best brushes on the market though, so check it out if you want a professional, but mobile electric toothbrush.