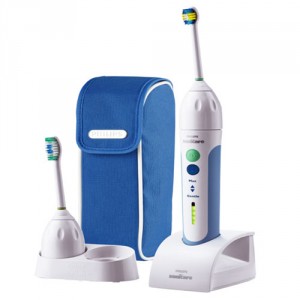 Are you looking for a great brush to really catch-up with your oral hygiene? Well, if you are, there are a lot of brushes on the market, and while the Phillips Sonicare is pretty good, sometimes you just have to know what you're buying into before you actually get the product. You see, it's nice to think that every electric brush is the same, but as with manual brushes, you really have to find the one that will suit all your needs, and cater to any problems you may have with your gums. If you do pick the wrong one, you might end up damaging your teeth or it might not be as effective as getting another brand.
These are all important factors when it comes to dental health, so is the Sonicare really the right choice for you?
The Package
At first glance, this brush seems like a starter set, but in truth, it is simply old. The base package includes 2 brush-heads. The first of which is a standard head, while the second is compact and is designed for more sensitive areas in the mouth. It also comes with 2 hygienic caps for after dark in the bathroom, a charger base, a brush head holder and a case for those emergency journeys. That's about it for the package, and from here, you can tell that this is truly a simple brush with not too many bells and whistles. It also makes the toothbrush an excellent starting point for those that want to ease into the world of electric toothbrushes.
How it Performs
The beauty of simple products is that they can often be very focused on one purpose. This brush is very precise in cleaning, but it is a little older than most models so don't expect it to breach the 30,000 rpm mark. It has been proven that the brush can reduce the risk of gingivitis, but initially, it might seem that the brush won't be able to do that. In terms of cleaning, the soft bristles do a great job of sweeping away the plaque in your mouth and getting in between the gaps in your teeth. There aren't many different types of brush-heads though, so don't go looking for a deeply varied set of heads if that's what you want out of this toothbrush. The simple grip is also designed to have a non-slip surface, and holding it in your hand feels very comfortable.
Aside from the feel of the toothbrush, it also comes with some neat, but basic features. It has an internal timer, which clocks at the standard 2-minute time limit that doctors usually recommend. It has a 30 second interval times for each quadrant of your teeth, allowing you to move around your mouth with ease. The unfortunate thing is that it only comes with two solid settings. 'Gentle' is for the gums, but can be used for those that have sensitive teeth as well. The standard setting is exactly what it is. These two modes are assigned to two different buttons, and it's simple enough so that anyone can use it. Cleaning can be a bit of a hassle though, and some models tend to die out in a year or so, giving it a shorter lifespan than most other brushes.
The Verdict
There's no doubt that this electric toothbrush lacks a lot of the features found in newer models. It doesn't have any fancy bells and whistles, and it surely doesn't have a very high-speed motor. However, that is the beauty of the machine because it doesn't get weighed down by too many options. It also does a very efficient job of cleaning your teeth, and is very easy to pick up and use. The brush-heads, however, are nearly impossible to find so the suggested course of action is to order a couple of extra heads along with the toothbrush. Since it is priced at around $89.00, and a three pack of brush-heads cost $25, you're probably going to save more money than when you buy a new model.